One on One conversation: Directing American Plays in Turkey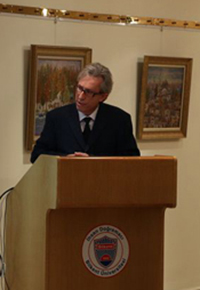 V. Assistant Professor Jason Hale & Meltem Keskin
"One on One conversation: Directing American Plays in Turkey"
ason Hale is an American theatre director and teacher of acting, with over twenty years of experience as a professional actor, director and producer in New York City, at theatres across the United States and internationally. Jason Hale has an M.A. in Directing from Antioch University and worked for many years as an assistant to director John Uecker and as a personal assistant to writer James Purdy. He has directed internationally in Turkey and Mexico and at many diverse theatres in New York City such as La MaMa ETC, St. Mark's Theatre, Triad Theatre, Bank Street Theater, Theatre for the New City, 45th Street Theatre, Phil Bosakowski Theatre, CSV, Kraine Theater, Stella Adler Studio Theater, New Actors Workshop Theater, RAW Space, and the Times Square Arts Center. Regionally he has developed and directed new works at theatres in Pennslyvania, Wisconsin, Connecticut, and Long Island, New York.
As a teacher of acting, Jason is a qualified teacher of the Viola Spolin improvisational technique, having worked and studied privately with Ms. Spolin's son, director Paul Sills, for many years. Jason is in demand internationally as a teacher of this technique, having trained students in this work throughout the U.S., and from Mexico to Turkey. In addition, he also has a thorough knowledge of modern acting theory, having taught in such diverse schools as the Stella Adler Studio of Acting, New York University- Tisch School of the Arts, New Actors Workshop, Antioch University McGregor, HB Studios, School of Visual Arts, New York Film Academy and in many workshops with the Screen Actors Guild, the New Jersey Performing Arts Center and several theaters and groups across the U.S. Internationally, he has taught at the Olusum Drama Institute in Istanbul and Ankara, Istanbul University State Conservatory, Spolin IST, Maltepe University, Robert College of Istanbul, and in 2010 and 2012 at ACTUANDO SIN ACTUAR, an international acting method festival in Auguascalientes, Mexico. Jason currently directs and teaches as Visiting Assistant Professor at Bilkent University in Ankara Turkey.
As a professional actor, Jason has performed in theater, film and televison. He is a 1993 graduate of the New Actors Workshop in NYC where he trained as an actor full-time with Mike Nichols, George Morrison and Paul Sills. As a longtime member of the Actors' Equity Association, Jason has performed in over 50 classical and contemporary plays at both Off and Off Off Broadway theater groups in New York City and at such regional theaters and ensembles as the Bloomsburg Theatre Ensemble, Baltimore Theatre Project, Touchstone Theatre, Pennsylvania Stage Company, Blue Circle Theater Company in Door County, Wisconsin, Montauk Theatre, Bearsville Theatre, and the Tamarind Theater in Los Angeles.
In 2012, Jason was selected by the Fulbright Foreign Scholarship Board, the U.S. Department of State's Bureau of Education and Cultural Affairs, and the Council for International Exchange of Scholars to become a roster candidate to teach internationally as a US Fulbright Scholar Specialist.
Jason is a member of the Stage Directors and Choreographers Society (SDC).
Recordings