Read and Publish agreements, sometimes called transformative agreements are changing the business model of scholarly journal publishing. The separate costs of a subscription to read articles and the Article Processing Charge (APC) to publish articles are brought together under a single agreement—to drive the transition of journal publishing towards open access of the version of record. Read and Publish agreements provide authors with the opportunity to publish via open access immediately on acceptance without the need for additional payment of transactional Article Processing Charges (APC). The process to do this is typically part of the publisher's standard acceptance workflows that authors follow.
Bilkent University Library has entered into Read & Publish agreements with the following publishers:
SIGNIFICANT POINTS: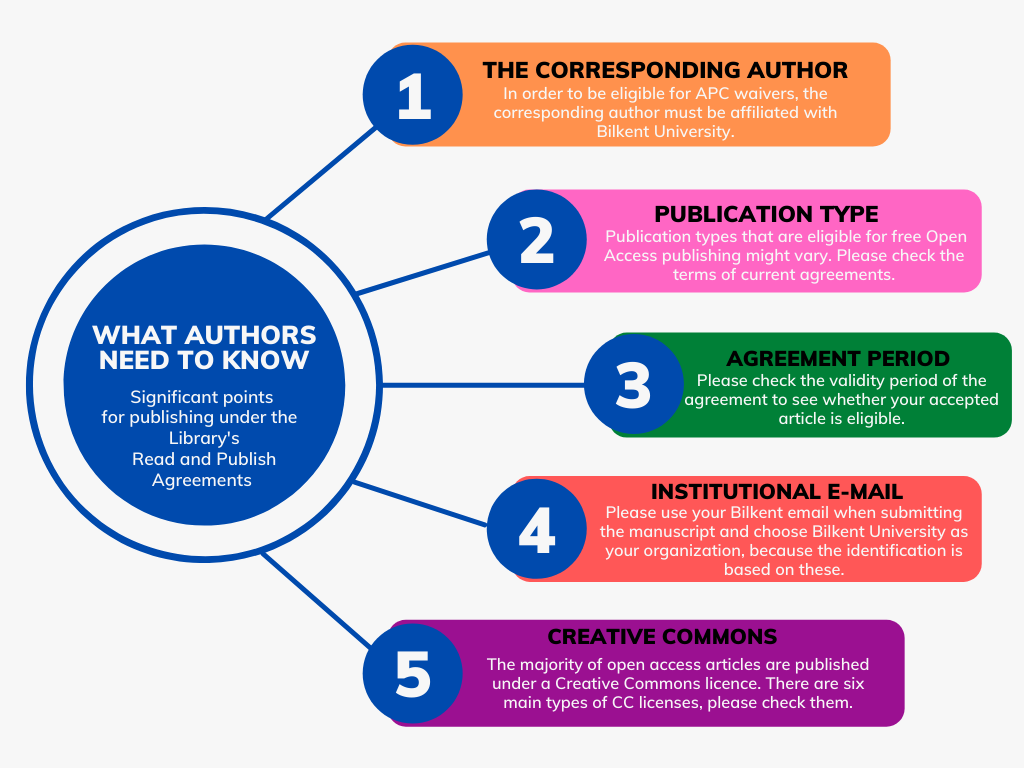 CREATIVE COMMONS:
For queries about read & publish agreements, please contact your
Faculty Librarian
.
Any further agreements or details will be added to this page when available.
A three-year agreement covering the years 2022, 2023 and 2024 was signed with American Chemical Society (ACS). Within the scope of this agreement, Bilkent University members will not pay Article Processing Fee for open access articles to be published in ACS journals.
Full-text access is provided to journals published by the American Chemical Society in the field of chemistry and related disciplines. Also, platform includes archive of the journals beginning from 1879. The current number of journals is 78, 12 of which are open access.
Summary:
The corresponding author should be a Bilkent University author and an institutional e-mail address (@bilkent.edu.tr) should be used during submission.
Institutional affiliation should be stated in the body of the manuscript.
Articles must have an acceptance date that falls within the period of the current agreement. (2022-2024).
All papers will be published with a CC-BY license.
More information and instructions can be found on the ACS website.
Journals covered:
Journal list can be accessed
here
.
Eligibility:
Bilkent University corresponding authors.
The list of articles published under this agreement:
Find below the steps to publish open access under ACS Read & Publish Agreement, once your article is accepted:

Step 1:
Once your article is accepted, you will receive an email to complete the Journal Publishing Agreement (JPA).
"Yes I wish to publish Open Access" option should be selected to complete the JPA signing process.
"Order Open Access" link provided after you sign the publishing agreement should be followed.
Step 2:
The "Order Open Access" link will take you to Copyright Clearance Center RightsLink®, ACS's open access e-commerce partner for open access transactions.
Select "Seek Funding from (Your Institution/Agreement)" and click "Next".