All that glitters is not gold, nor all that sparkles silver: Ancient Anatolian jewellery unveiled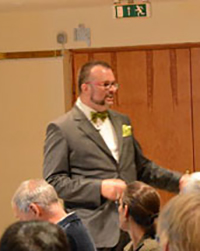 Dr. Thomas Zimmermann
"All that glitters is not gold, nor all that sparkles silver: Ancient Anatolian jewellery unveiled"
Assistant Professor and Acting Chair, Department of Archaeology, Bilkent University
Thomas Zimmermann graduated from the University of Regensburg, Germany, where he completed his studies in Pre- and Protohistory, European Ethnology and Classical Archaeology. For his PhD project he was based with scholarship at the Römisch-Germanische Zentralmuseum Mainz, an internationally renowned research institute, studying Copper Age burials with daggers in their technological and social dimensions, as part of the Early Elites Research Cluster. In 2003, he succumbed to the oriental lure and moved to Turkey, where he is currently appointed as Assistant Professor and Acting Chair at the Department of Archaeology at Bilkent University, Ankara. His versatile research interests include science in archaeology, early metallurgy, the emergence of elites in 3rd millennium BC Asia Minor, and the history of archaeological methodology.
He has participated in numerous digs in Germany and Turkey. His fieldwork experience extends from excavating medieval tanneries and Late Bronze Age hilltop settlements in Bavaria to Hittite towns in Eastern Cappadocia. His current research focus is set on Bronze Age metal production and consumption, particularly non-destructive spectrographic analyses of 3rd and 2nd millennium metal objects from Anatolia, to reveal their elementary composition. His studies in collaboration with Ankara University, the Sarayköy Nuclear Research and Training Centre (SANAEM) and the Museum for Anatolian Civilizations are published in reputed peer-reviewed journals like Journal of Near Eastern Studies, Antiquity, and Oxford Journal of Archaeology, alongside with numerous other articles on interregional trade, early elites and various other metal age phenomena at large. One of his recent joint publications (T. Zimmermann/ N. Dilek/ T. Kağan Önder, Ein neues Schwert vom Typus 'Arslantepe' – frühmetallzeitliche Waffentechnologie zwischen Repräsentation und Ritual. Mit einem archäometrischen Beitrag von Latif Özen und Abdullah Zararsız. Praehistorische Zeitschrift 86, 2011, 1-7) discusses one of the oldest swords in World history, dating to about 3.000 BC, erroneously filed as a "Roman knife" in a museum collection. He is currently coordinating the scientific analyses of Neo-Assyrian metal artifacts from Ziyaret Tepe, Bismil, and worked on Early Bronze Age metal finds from settlements and cemeteries in the Eskişehir plain, and the metals from Kinet Höyük this summer.
His MA and PhD theses have appeared as monographs (RGZM Catalogue and Monograph Series, Mainz 2006 and 2007); and he co-edited the "Sacred Landscapes in Anatolia" conference proceedings with Charles Gates and Jacques Morin (BAR International Series, Oxford 2009). That aside, he loves to watch Dr. Who and vintage James Bond flicks, and to accumulate mechanical timepieces, old maps and Star Wars collectibles.
Recordings