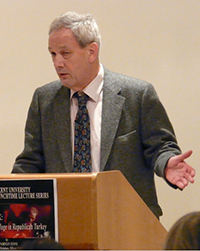 Prof. Norman Stone
"Einstein to Bartok: Academic Refuge in Republican Turkey"
Prof. Norman Stone graduated with a First Class Honours in History from Gonville and Caius College, Cambridge University, (1959-1962). Following his undergraduate degree, Prof. Stone went to complete his graduate work studying Central European History in Vienna and Budapest (1962-1965). Upon completion of his Master's degree, he was initially offered a research fellowship by Gonville and Caius College, Cambridge, where he later became a full Assistant Lecturer in Russian and German History (1967), and finally a full Lecturer in 1973. In 1971 he had transferred from Caius to Jesus College, where, as director of studies in history, he combined a reputation for academic brilliance with an engaging angle on college politics. He was subsequently accepted in 1984 as Professor of Modern History at Oxford University.
In 1997, he accepted retirement from Oxford and began lecturing in the department of International Relations at Bilkent University.
Prof. Stone founded the Center for Russian Studies in Bilkent University in 1998. He has been a frequent commentator, since 1985, in the British press, and has also written for the Frankfurter Allgemeine Zeitung and the Wall Street Journal. Prof. Stone knows many foreign languages including German, Russian, Hungarian, Polish, French, and Turkish. Also he has worked regularly as a columnist and written articles in The Sunday Times between 1987-1992. Prof. Stone was also Margaret Thatcher's foreign policy advisor on Europe, as well as her speech writer.
Recordings