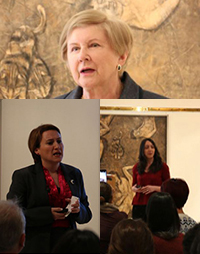 Dr. Margaret Sands, Dr. Armağan Ateşkan, Sıla Sagun
"One on One conversation: Directing American Plays in Turkey"
Dr. Margaret Sands, (EDUC) / Dr.Armağan Ateşkan, (EDUC) / Sıla Sagun, (BLIS)
Wednesday, 25 November 2015
Margaret Sands joined Bilkent in 2000 as the director of the new Graduate School of Education. Before then she worked at YÖK for five years as team-leader of the World Bank project in pre-service teacher education. She began her career as a school teacher in England, moving to the University of Nottingham where she became the director of the PGCE program. While at Nottingham she worked in many countries for Unesco, UNDP, Asian Development Bank, World Bank, and with other projects. She is the author, co-author or editor of over 40 books aimed at science education.
Armağan Ateşkan (BS İstanbul Technical University, MA Bilkent University, PhD Middle East Technical University) joined Bilkent University Graduate School of Education in September 2002 as an instructor, and teaches MA courses. She has also worked at Özel Bilkent Lisesi as a biology teacher and as an educational technologist at an international school in Belgium. Her interests are ICT in education, education for sustainability, international education, computational thinking, mLearning, STEM and outdoor education. She is leading international and TÜBİTAK research projects at Bilkent University.
Sıla Sagun has a BSc degree in biology from Ankara University, and an MA in biology teacher education from Bilkent University. She is a PhD candidate in curriculum and instruction at Bilkent University. Ms Sagun has been working as a biology teacher 2009, and is currently the head of the high school science department, at Bilkent Laboratory and International School.