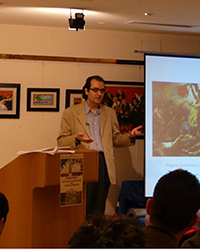 Onur Türkmen was born in Eskişehir, Turkey in 1972. In 1990 he moved to Istanbul to study environmental engineering at Istanbul Technical University from where he graduated in 1999. In 1995 he attended to Berklee College of Music in Boston and graduated in 1998.He continued his studies at Istanbul Technical University's Center for Advanced Musical Research (MIAM) with Mark Lindley, Michael Ellison, Kamran Ince, Pieter Snapper and Ilhan Usmanbaş. After graduating from MIAM with a Master's Degree in Composition, Onur continued his doctoral studies at the same institution and this year he completed his dissertation entitled "Contemporary Techniques applied to Turkish Music Instruments". In the dissertation, in addition to his research on Turkish musical instruments and contemporary techniques, he presents a collection of pieces under the collective title "Hat" for a quartet of Turkish Music instruments: kemençe, ud, kanun, and ney. His studies on Turkish music began in 2000, on theory under Nermin Kaygusuz and on the ney under Yavuz Yekta. In 2001, he designed a new guitar model with the frets are arranged according to the Turkish music system. He has composed pieces for the Turkish music chamber ensemble "Arayışlar" and, in 2003, some of these works were performed at the Istanbul International Spectral Music Conference. This concert was issued on CD in 2008 by Pan Publishing along with the proceedings of the conference. From 2004 to 2007 Onur taught music theory and orchestration in the Music Department at Bilgi University. He is currently teaching the "History of Music", "Twentieth Century Music", "Music of Igor Stravinsky", "Studies on Modality" and "Improvisation" courses at Bilkent University Music and Performing Arts Department.
His pieces have been performed by many different ensembles, including the Istanbul Modern Music Ensemble, the Bilkent Su Trio, the Adapter Ensemble (Berlin), the University of Memphis Contemporary Chamber Players, the Razumovsky Ensemble (London), Trio Fem, Duoist and the Anahata Ensemble. He has delivered seminars, lectures and attended panels on the following subjects: "Model Designs for Guitar in Just Intonation", "Stravinsky and Renaissance Music", "Risk; The other avant – garde: John Cage, Giacinto Scelsi", and "An Introduction to New Music" at Boğaziçi University, Bilkent University and Yapı Kredi Arts Culture and Publishing Department. He has also produced and hosted radio programs for Açık Radyo in which he interviewed Ilhan Usmanbaş, Kamran Ince, Tolga Tüzün and Tolga Yayalar. He also performed with several improvisation ensembles including artists such as Tim Hodgkinson, Nick Hobbs, Christian Asplund and Robert Reigle. One of these improvisations with Şenol Küçükyıldırım has been issued on CD by Pan Publishing along with Salliha Nilüfer's novel Bir Endülüs Hikayesi.
Türkmen is interested in the Islamic Cult "Hızır", and its correspondences in different cultures such as Hermes in Ancient Greece, and has the fantasy of composing a musical play on this subject. He is married to Gülüş Gülcügil, a graphic designer, musician and writer. The couple has a four year old son, Barış.
Recordings