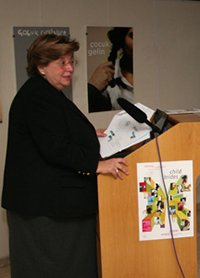 Prof. Tomris Türmen
"Child Brides"
President, International Children's Center.
Dr. Tomris Türmen is a professor of Pediatrics and Newborn Medicine trained in the New York Medical College and the McGill University. She is also the President of International Children's Center located in the Bilkent University Campus, in the Library Building.
She served as Director-General of Maternal and Child Health Care and as Deputy Permanent Secretary in the Ministry of Health of Turkey.
She worked for 15 years as the Executive Director of the World Health Organization in Geneva. Her long career in global health covers leadership positions in policy, development and analysis, institution building, international cooperation, research and teaching focused on the health of women, children and young people with special emphasis on reproductive health.
She is a strong advocate of gender equality and human rights. She currently serves on several international boards such as Bill and Melinda Gates Foundation. She is a recepient of many awards and honorary doctorates an is a fellow of the Royal College of Obstetricians and Gynecologists, London and diplomate of the American Academy of Pediatrics and Neonatology.
Recordings