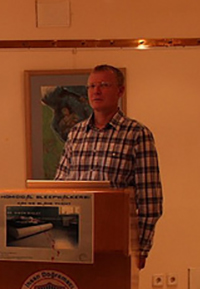 Dr. Simon Wigley
"Homicidal Sleepwalkers: Can We Blame Them?"
Department of Philosophy, Bilkent University.
Thursday, October 10, 2013
Simon Wigley is an associate professor in the Department of Philosophy at Bilkent.
Tijen received her B.Sc. and M.A. degrees in English Language Teaching, and earned her Ph.D. in Educational Sciences from Middle East Technical University. She also holds a Certificate for Overseas Teachers of English from Cambridge University.
Dr. Wigley is from New Zealand and received his B.A. in Philosophy and Politics (Double Major) from the University of Otago in 1990. He holds both M.S. (1993) and Ph.D. (1998) degrees in Political Philosophy from the London School of Economics and Political Science, UK. His research is in the areas of ethics and political philosophy, with an emphasis on moral responsibility, distributive justice and democratic theory.
In his spare time Dr Wigley indulges in (painfully slow) cross-country running and the occasional (also painfully slow) marathon. He is not a sleepwalker.
Recordings