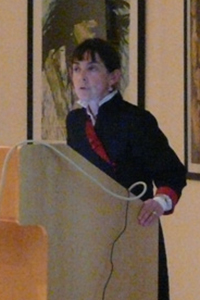 Dr. Marie Henriette Gates
"Exploring an Ancient Port in Mediterranean Turkey: The Kinet Höyük Excavations (Hatay)"
Dr. Marie-Henriette Gates is Associate Professor in the Department of Archeology and History of Art (HART) at Bilkent University and has been Director of the excavations at Kinet Höyük, Hatay, since 1992.
She received her B.A. in Latin and Archaeology from Bryn Mawr College, Pennsylvania, USA, in 1970, and then she pursued her graduate research in Near Eastern Languages and Literatures at Yale. She was awarded her M.Phil. there in 1974 and her Ph.D. in 1976 with a dissertation entitled Alalakh-Tell Atchana, Levels VI and V: a Re-examination of a Mid-Second Millennium B.C. Syrian City , written under the guidance of Prof. Richard S. Ellis.
She first came to Turkey as an undergraduate student, joining the Bryn Mawr excavations at Karataş-Semayük, near Elmalı/Antalya (3 seasons, 1969-1971). She returned to Ankara with a post-doctoral fellowship at American Research Institute in Turkey (ARIT) in 1976-78, and became ARIT-Ankara director for the second year of that grant (1977-78). During those two years, she was also recruited to teach English at the Lycée français. It was during this period that the salvage excavation projects on the Euphrates started up, in conjunction with the Atatürk Dam construction. She thus became involved in one such project as field director (Gritille excavations, near Adıyaman, 1981-84)
She returned to the States in 1979, joining the Classics Department at the University of North Carolina at Chapel Hill, firstly as visiting part-time Assistant Professor, then fulltime Assistant Professor, and finally as Associate Professor.
Marie-Henriette Gates joined Bilkent University in 1990, and continues to play an active role in university's life and administration. She was the Chair for the Archaeology Department from 2000-2006, and has been a board member of the Bilkent University Preparatory School (BUPS) since 1993. She had the honor of receiving the university's Distinguished Teaching Award last year (2008). During her time at Bilkent, Dr. Gates spent a year as research associate at the University of Cambridge's McDonald Institute of Archaeology (1997-98) and returned last month from a five-month appointment as Fellow at the Institute for Advanced Studies of the Hebrew University of Jerusalem (Israel).
Dr Gates' research and teaching interests include Near Eastern prehistory with special reference to Turkey and Bronze Age Syria; and, she has published over 35 papers, including excavation reports and the annual "Archaeology in Turkey" for the Journal of the Archaeological Institute of America (Boston University). She worked on a number of "digs", notably in Turkey, but also in Syria, Iran and Italy. In addition to her work on Kinet Höyük, she is also currently working on the prehistory of Elmalı Plain (Antalya). Dr. Gates is also on the editorial board of the journal Anatolia Antiqua, published by the Institut Français d'Études Anatoliennes (Istanbul).
Marie-Henriette Gates is married to Dr. Charles Gates, who also teaches at Bilkent's archaeology department, and they have two children. Her personal interests include classical European and Turkish music, and she is currently learning to play the ud (oud). She is a citizen of both France and the United States.