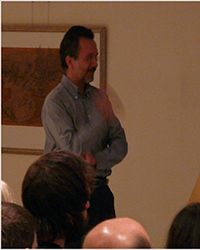 Ahmet Gürata joined the Department of Communication and Design in 2007. After studying economics at Ankara University, he worked in number of media organizations. Then, following Umberto Eco's advice in "Towards a Semiological Guerilla Warfare," he decided to occupy "the chair of the group leader in front of every movie screen, every transistor, every page of newspaper," instead being a publisher or a broadcaster. He entered the M.A. program in Graphic Design here at Bilkent University with a desire to pursue an academic career in film studies. He got his Ph.D. from the London Consortium (University of London) with a dissertation on movie remakes and the reception of international films in Turkey.
After teaching at the University of Southampton, Sabancı University and Gazi University, Gürata returned to Bilkent. He is the acting chair of the Department of Communication and Design and teaches courses in film history and theory. Dr.Gürata has published research on the history of Turkish cinema, cross-cultural reception, remakes and documentary in anthologies and journals.
He is a member of Turkish Association of Documentary Filmmakers and the UNESCO Turkish National Commission's Communication Committee. He co-organizes the PASO Student Film Festival and the DocuTravel Documentary Workshop, as well as serving as an advisor and a jury member for a number of film festivals. Despite the heavy routine of academic work, he is trying to be an enthusiastic cinephile.
In addition, Dr.Gürata is a founding-member of the Kavaklıdere Kültür Merkezi Derneği, an association working to re-launch the Kavaklıdere Movie Theatre. This movie-theatre was one of the significant places of his youth… He is also a blogger trying to cultivate interest in cinema.
Recordings