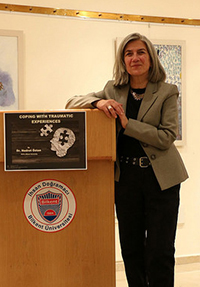 Dr. Nedret Öztan
"Coping With Traumatic Experiences"
Department of Psychology, Bilkent University.
Thursday, 21 April 2016
Biography
Nedret Öztan pursued her graduate studies in psychology in Washington D.C. and later in New York where she worked with schizophrenics and got training in group therapies as well as in family therapies. After returning to Turkey, she completed her doctoral studies at Ankara University in 1996. She has taught at METU Psychology Department and worked in Psychological Counseling Center at Bilkent for years. She has been teaching at the Psychology Department of Bilkent University since 2008
Dr. Öztan who has been working with the refugees since 2006, has worked as the member of Executive Council at Turkish Psychological Assosiation for 10 years. She also served as the President of the Association between 2010-2012. She has been involved in organizing and conducting psychosocial interventions as well as training sessions in the field since 1999 Marmara Earthquake.
Recordings