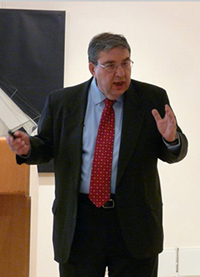 Prof. Carnot Nelson
"A Typical Turkish Leadership Style: Paternalistic Leadership Comparisons within Turkey and Cross-Nationally"
Carnot Nelson was raised in Milwaukee, Wisconsin, received his bachelor's degree in psychology from the University of Wisconsin – Madison and his doctorate in social psychology from Columbia University. Prior to joining the psychology faculty at the University of South Florida, he was on the faculty of Emory University and The Johns Hopkins University. At USF he was a member of the Industrial/Organizational Psychology doctoral program. He spent two years at the National Institute of Education in Washington, D.C. as an Intergovernmental Fellow. He is a fellow of both the American Psychological Association and the Association for Psychological Science.
In August 2006 he came to Turkey for the first time as a Senior Fulbright Lecturer at Hacettepe and Middle East Technical Universities which followed his retirement from USF. He returned to Turkey in 2009, when his wife Alice received a Fulbright, and taught two courses at Bilkent University. He returned to Bilkent as a Visiting Professor in 2011 and after spending the fall 2012 semester in Tampa returned to Bilkent in January 2013. His previous research focused on the utilization of scientific knowledge and program evaluation. His present research on paternalistic leadership and emotional labor both within Turkey and cross nationally.
He spends his free time reading mysteries and history. He and his wife Alice recently celebrated their 50th wedding anniversary. They have two sons and four grandsons.
Recordings